When meeting people for the first time, conversation usually samples something similar to these two lines;
…Ich komme aus Michigan… (I'm from Michigan)
Ach so! Chicago ist in der Nähe, oder? (Oh, Chicago is nearby, right?)
Most people seem to know of Lake Michigan, but the other three great lakes (there are actually four more…) are still a mystery. Detroit is more well known than its home state…thanks Eminem! (…and Ford, GM, Fiat-Chrysler…).
To be fair, my Erdkundekenntnis of Germany before I came was pretty poor. In no way am I slamming Germans for not knowing where exactly Michigan is located, or even more specific, where Detroit is.
But we Michiganders can thank H&M for bringing Michigan to the runway.
This shirt was found prominently displayed in a Düsseldorf H&M. No other Bundesstaaten were in sight. Take that, Cali.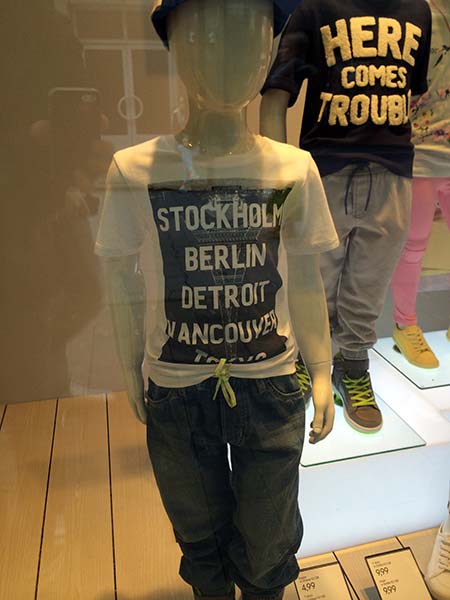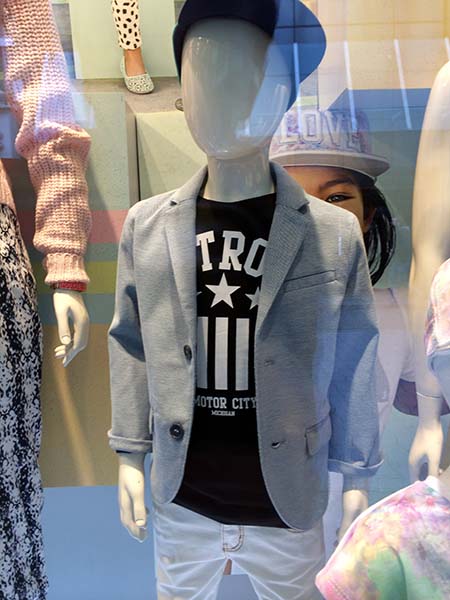 The Duggan spring collection is here. The other two photos were in the front window of Aachen's H&M.  Detroit is among good company. Haha! Take that, New York City!
The MEDC should just go ahead and hire H&M as their main marketing partner.
---
To my German readership:
Es ist genau wie, ob du in einer H&M in den USA gegangen bist, und du siehst, dass überall "Nordrhein-Westfalen" T-Shirts sind. Besser noch ist, dass diese T-Shirts komplett ohne kontext sind…