I am not Merkel's masseuse.
An arm's length distance separated my hands from Bundeskanzlerin Frau Dr. Angela Merkel's shoulders…along with respect for world leaders, people's personal space, and let alone, common sense. Besides, President Bush already has it covered…
(I wonder if President Obama also exercised his hands while at Schloss Elmau?)
But before we discuss my self control and aversion to seizing the shoulders of the most powerful woman in the world, we need to understand how I got to see Bundeskanzlerin Merkel in the first place.
Memories, forgetfulness, and reunion

From the first days of orientation in Chicago to the the very last YFU seminar, fellow CBYX students had been chattering about our culminating trip to Berlin. Our schedule was packed with exciting events – a city tour, a visit to the United States Embassy, and special time in the German Bundestag and Bundeskanzleramt. No one doubted that the trip would be anything less than amazing.
Tuesday, June 9th was my departure date from Kall. I boarded the rolling red train giddy with excitement, although I was simultaneously melancholic; the final trip to Berlin meant that my exchange year was at its close, and there would be no following YFU seminar for the remainder of my exchange year. This was the beginning of the end.
Boarding an absolutely empty train to Köln, I was able to select one of the many available window seats. I settled in for the hour ride to Köln Hauptbahnhof, tucking myself into the corner where grey train wall meets upholstered blue seat. Propped against the window, I watched the Eifel landscape pass by. Trees and rolling hills seemed to cling to my eyes, coercing me to begin reminiscing over my bygone travels.
My melancholic mood suddenly plunged into anger and frustration; my heart dropped, my stomach lurched. I hadn't stumbled upon a thought trapped deep in memory, but rather the complete opposite. My memory had failed, and I panicked at the significance of my situation – I had forgotten to pack my YFU flag, the flag which I had specially ordered and printed for this trip.
Living out of a suitcase for a year has allowed me to relinquish my emotional attachment to material items; I'm considerably less dependent on such things. However in permanent memory of my fellow YFU CBYX/PPP students, I had prepared a flag, adorned with the new YFU logo, for all to sign. For many of us the Berlin trip would be our last encounter….
…doch….I must remember the literal translation of Auf Wiedersehen ('on again to see', or better said, 'on the see again/reencounter')…
…but nonetheless the last time in a long time. I arrived in Köln more than a little agitated.
As I stepped off the train, I was greeted with the familiar sight that takes my breath every time.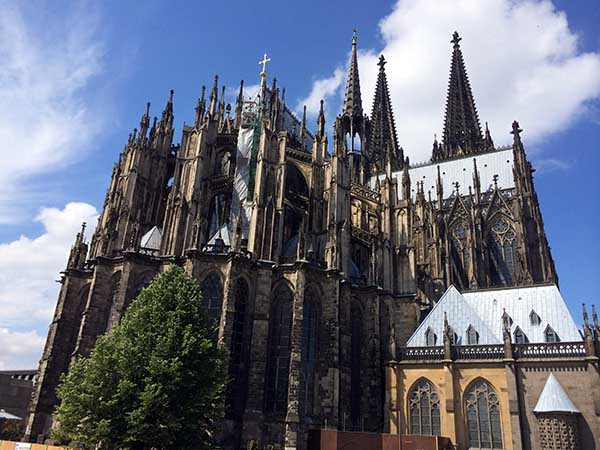 It seems that Köln was doing its part to cheer me up. However the noisy Baustelle thriving between platforms 3 and 6 quickly did away with the Dom's incited smile.
I quickly met two other YFU CBYX/PPP exchange students on our platform, and together we boarded the long, sleek, white ICE. Nach Berlin fahren wir! And what was cooler: wir haben uns miteinander komplett auf Deutsch unterhalten. Kein Englisch wurde gesprochen!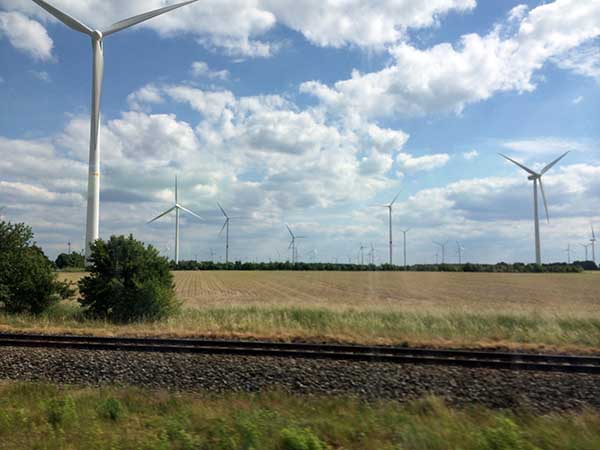 We arrived in Berlin mid-afternoon. We quickly found and joined other YFU CBYX/PPP exchange students who were waiting on the platforms. Many of us were reunited, having previously met at the Chicago National PDO or Mittelseminars. Others met for the first time, but instantly got along – a testament to the magic of the YFU family.
We gaped at the complex that was Berlin Hauptbahnhof; a pale blue-grey glass palace crowned five story deep pit buzzing with 16 platforms and an endless swarm of travelers and trains. I leaned over the edge of a glass railing and peered into the depths of the station. One story, two stories, three stories, four… I felt as if at any moment, Bane would come rising out from the depths of Berlin Hauptbahnhof.
We waited on a few whose trains were to arrive a few minutes later, and upon their arrival, we set off on our way to our hostel.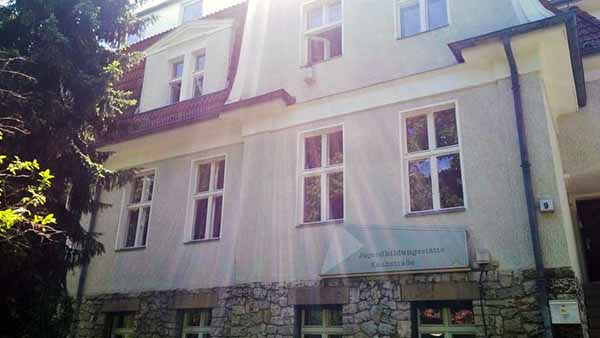 Like every other
Amongst smiles and hugs we met the other half of the YFU students; they had already arrived at and moved into the hostel. We settled in, and, once everyone had arrived, began the typical fanfare of YFU introductions, energizers, and briefings. Current or former YFU exchange students will immediately understand what I'm describing. This opening sequence, an unofficial commencement ceremony, is something that I've come to love, and it's not only strange, but saddening, to think that this was my last.
We wrapped up the evening with dinner and hanging out together as one big family. Tomorrow, our adventure begins.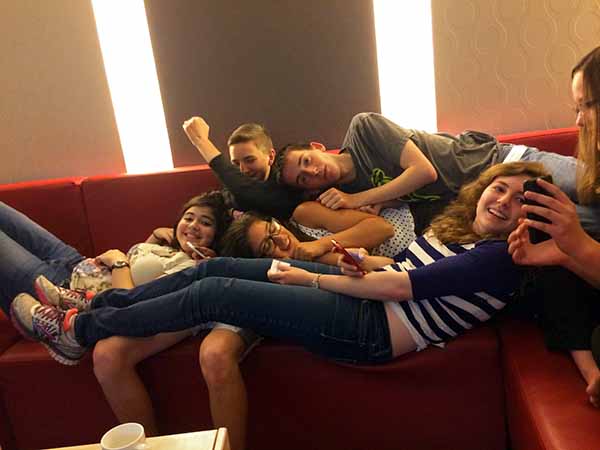 A wonderful Wednesday
The YFU Family is spread across the world over. It's not uncommon for alumni to meet along life's way – take my experience at the beginning of this year, for example.
We began the day with a city tour, lead by a former CBYX/PPP student, who was a member of the program while it was in its infancy. He showed us all that was to see in Berlin, making note of many of Berlin's eastern parts.
Of course, we made a stop at the former Berlin wall.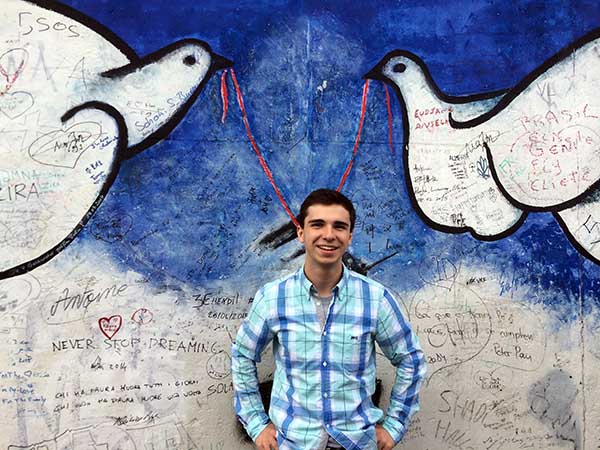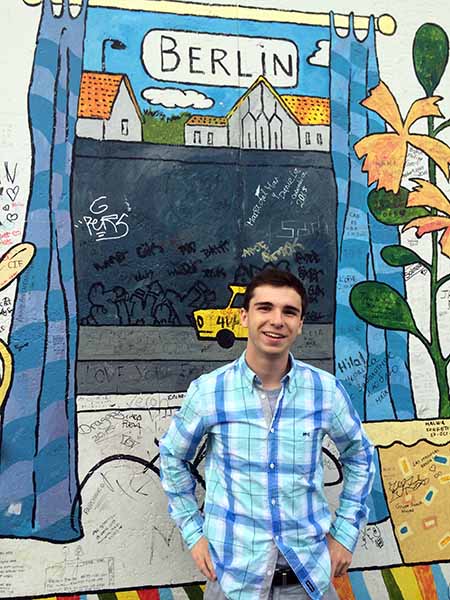 In retrospect, I question my choice to smile in these photos. I don't find it appropriate to smile, considering that these slabs of concrete and wrought iron were the causation of suffering, death, isolation, and separation, as well as a symbol of repression and conflict. Hindsight is 20/20.
We also saw some cool models of Berlin, concept architecture, and passed by some buildings of political importance. Among seeing other things, of course. I just suffer from a lack of photos.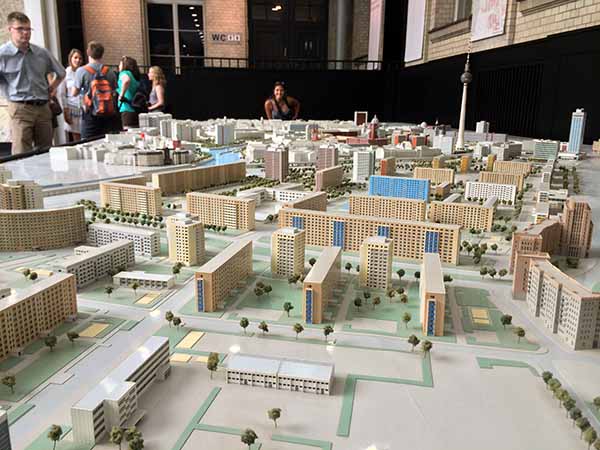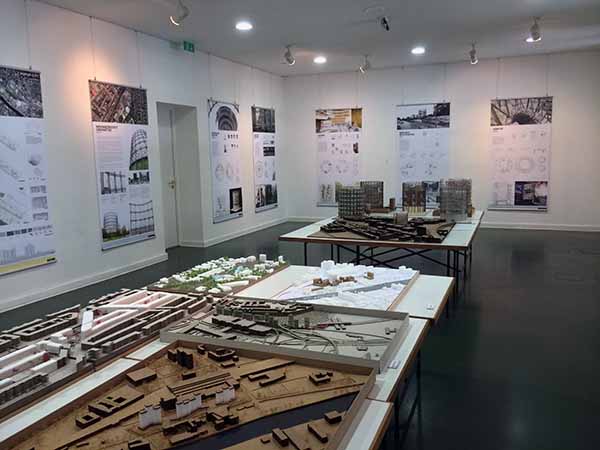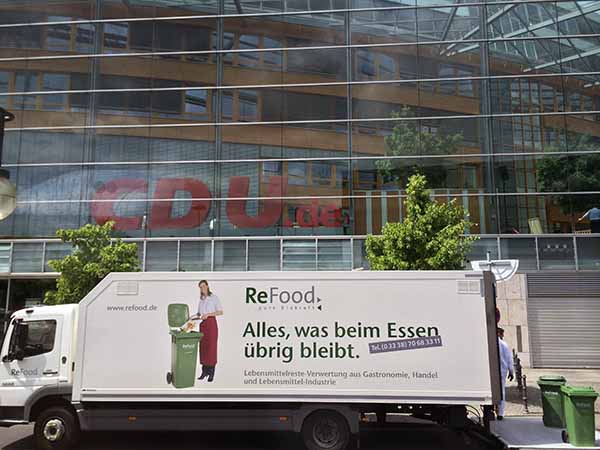 A Melodic Mittwoch
We broke into different groups to close the evening. My small group visited the Berlin Philharmonic. This was not my first concert in Germany – I've seen classical performances in Weimar and München, as well as Andreas Bourani in Stuttgart. However this was undoubtedly the best; the symphony orchestra is a group of extremely talented musicians.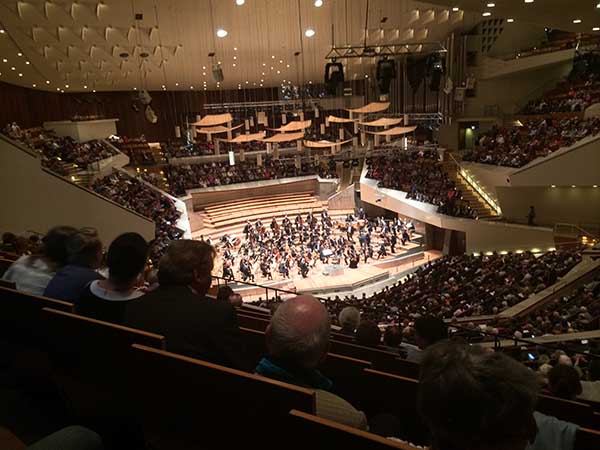 Botschaft, Berlin, and early in Bed
Thursday was #BerlinDay, the day where over 300 CBYX/PPP from all 7 organizations converge on the United States Embassy in Berlin to celebrate their exchange year, meet foreign service officers (we're all now US Department of State Exchange alumni with potential futures in the State Department), and meet John B. Emerson, the US Ambassador in Germany. And for those wondering: yes, I did step onto US-American soil. The count stops at 315 consecutive days abroad.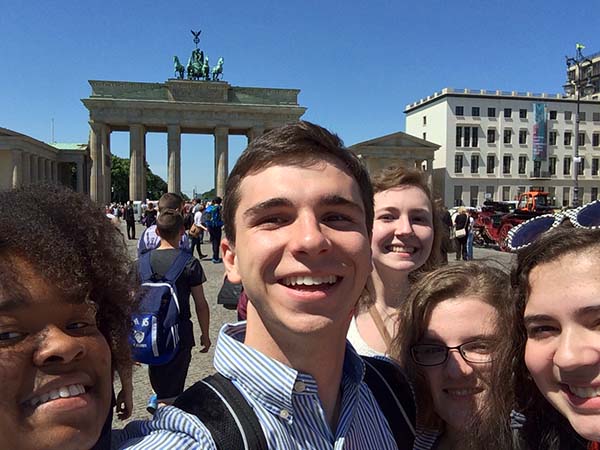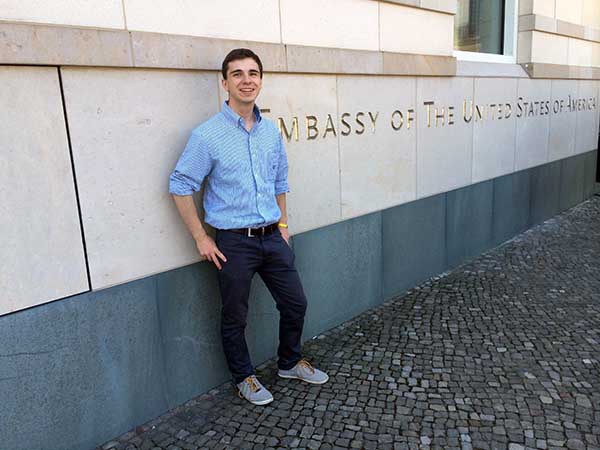 Harvard's Radcliffe Pitches, a ladies A capella group, opened the celebration.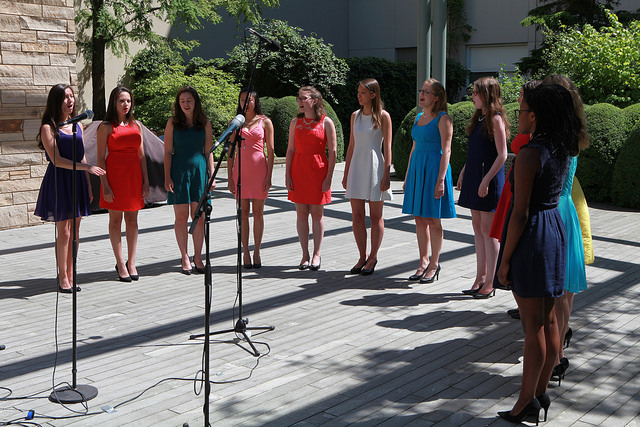 We then found fellow exchange students from our home state and posed for the paparazzi.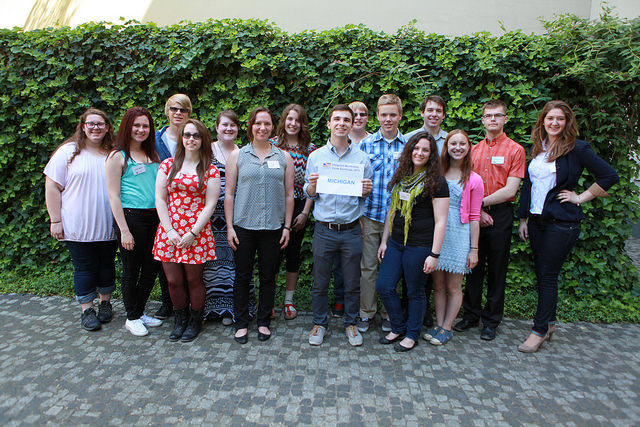 …and once more for our Bundesland (Nordrhein-Westfalen)…with special guest, Jürgend Hardt, MdB (CDU).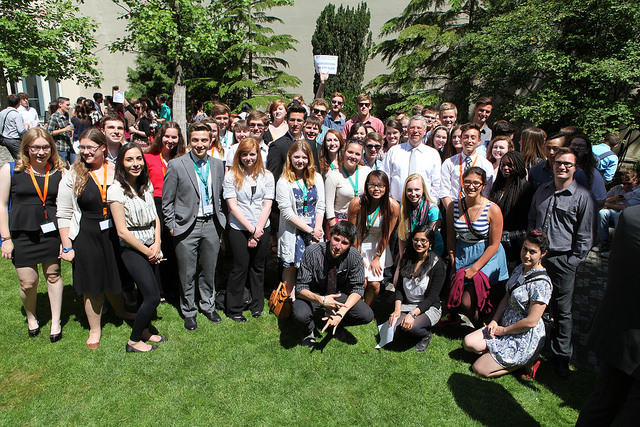 I had the pleasure of meeting US Ambassador John B. Emerson…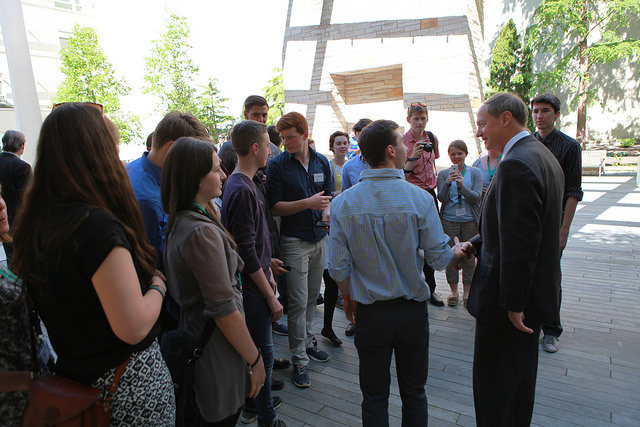 …who had moments before addressed the CBYX/PPP students…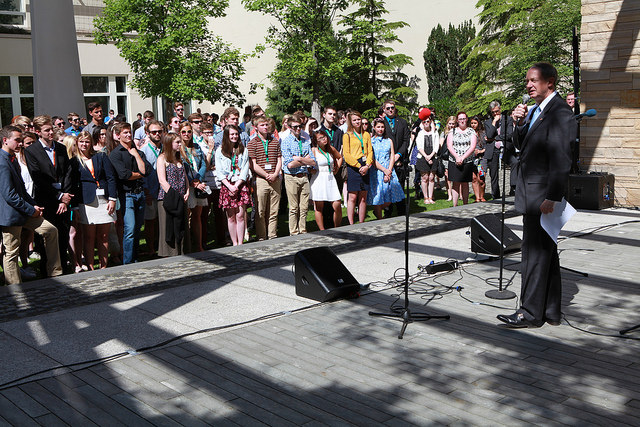 We then split amongst five or so foreign service officers who were stationed at the embassy and discussed what a career in the State Department was like. My small group met with Timothy Standaert, Deputy Press Attaché. Mr. Standaert graduated from Georgetown, and as an ROTC serviceman, joined the United States Army. Mr. Standaert then worked as high school History teacher before joining the Foreign Service. Since joining he has been stationed in Russia, Ukraine, Afghanistan, Iraq, the United Kingdom, and Germany (possibly more?)…certainly an exciting, and sometimes terrifying, life abroad.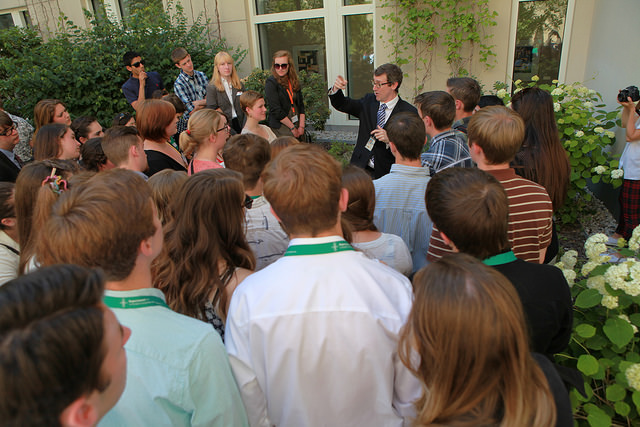 We had a great time together as one united and large group of CBYX/PPP students. And in an effort to help the #savecbyx (Website) cause, we lined up for the cameras…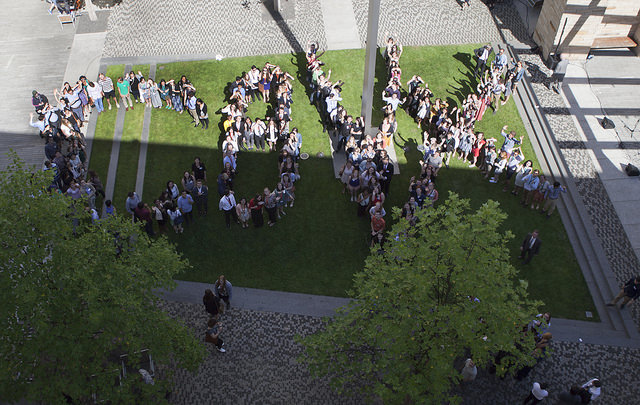 After our long day at the United States Embassy, we had some time to explore Berlin for ourselves. Heading off to Checkpoint Charlie with a group of friends, I posed for a cheesy picture with a "serviceman" from the United States Army.
Immediately after posing for the pictures, our group was approached by several journalism students from either Arizona State University or University of Arizona (?), who interviewed us on our perspective of the commercialization of Checkpoint Charlie. Has the evolution of this former gateway between East and West into a [mere] tourism attraction added to or taken away from its history? Certainly an interesting question.
Dem Deutschen Volke
Friday – the day we had all been waiting for. We were all excited for the prospects of the day, save for the need to get up at 04:20 in the morning… Andrew was not amused.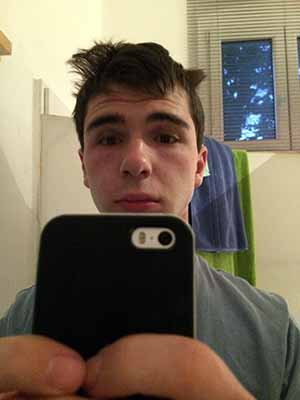 We shuffled on to a 05:00 breakfast, all looking dapper for our day at the political center of Germany. At around 06:00 we descended into the Berlin U-Bahn, and by 06:30 we were at the Brandenburg Gate. This time, the streets before the gate were absolutely empty, which made for some awesome photo opportunities. Even more special was that my YFU flag had arrived the day before, through express post, thanks to my host mother and host brother.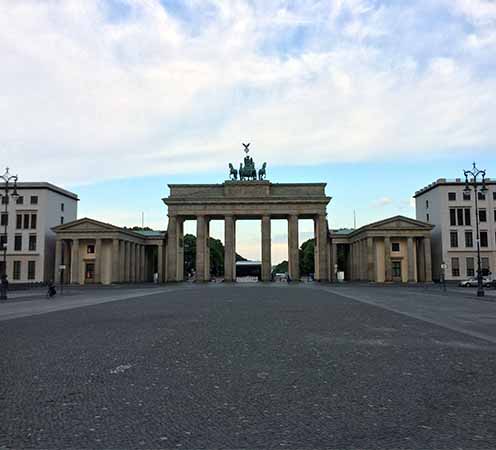 The Bundestag is beautiful at half past six…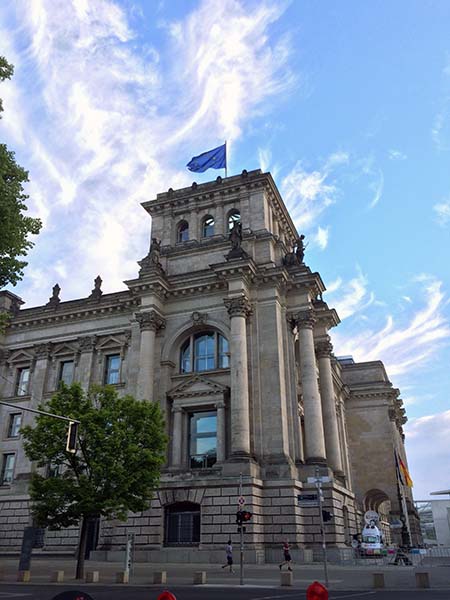 And so were we!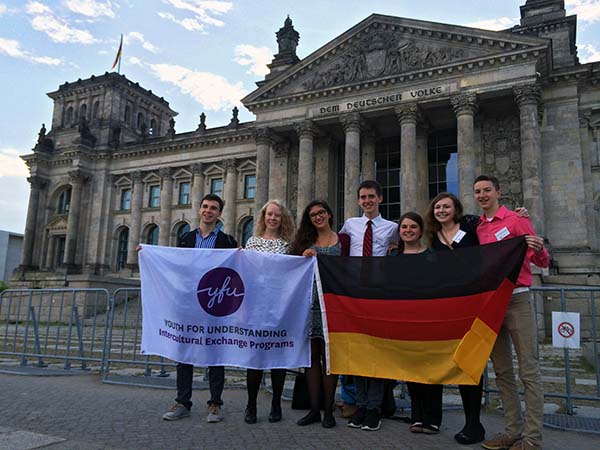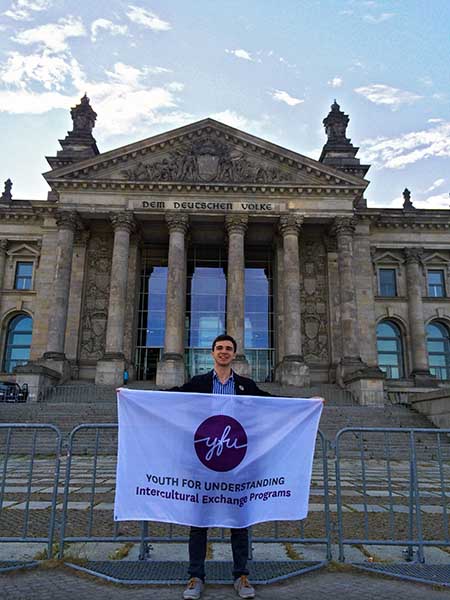 We excitedly passed through the Bundestag security checkpoint. My photo ID pictured me wearing the same blue and white striped shirt, and so I received a double take from the burly Bundestagspolizei officer. The ID had been printed almost exactly a year ago, but it is good to know that the security is aware of the small details.
The checkpoint's exit dropped us at the base of the Bundestag's front steps, steps which we immediately accented, and an enthusiastic babble rung between the 300 exchange students. But before we were allowed entrance into the building, we posed as a group on the the front steps, smiling brightly for the Bundestag and State Department photographers.
Shortly thereafter we were escorted to the visitor's gallery. After receiving a short lecture on the history of the Bundestag, which touched upon the incredible architecture and interior design of the building (auf jeden Fall will I later write about the Bundestag and Bundeskanzleramt architecture), the actual elected officials began to enter the Bundestag floor.
The Abgeordnete took their places, seated left to right, following the traditional left-right political spectrum of the French Parliament.  As a semi-related side comment, I dislike the left/right political spectrum, and you're much better off looking at something a little more sophisticated, such as the Political Compass.
Beneath my Bühne sat Die Linke, Die Grüne, and Die SPD, all left of center parties. Ahead of me sat the CDU/CSU coalition, which makes up the remaining 49% of the Bundestag.
The President of the Bundestag, Norbert Lammert, opened the session and the first topic, topic number 23, flashed onto the two large screens. IT-Sicherheitsgesetze – IT security laws… I couldn't believe my eyes. Not only were we sitting in on the 110th Sitztung of the German Bundestag, but the topic under discussion was what I'm currently planning to pursue in my career.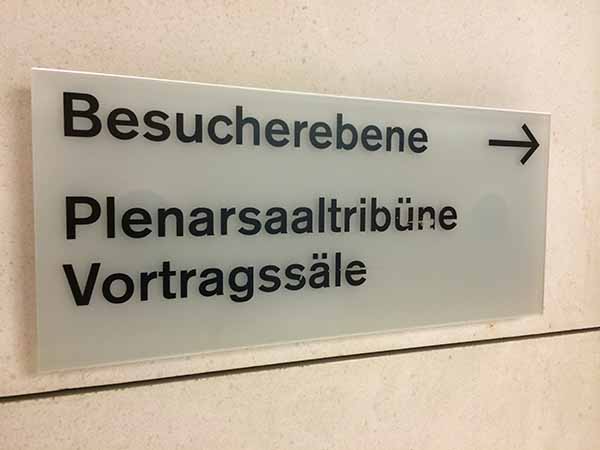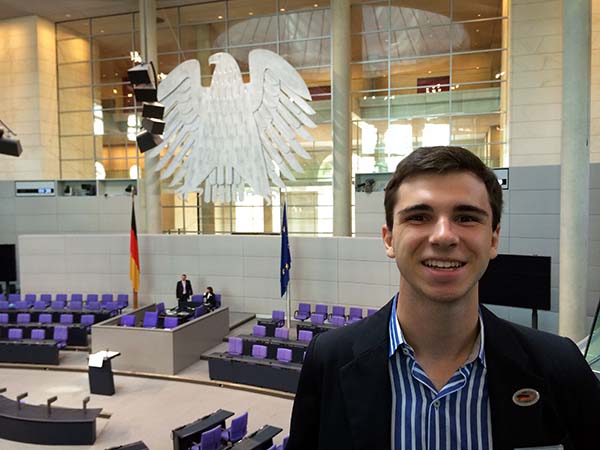 http://webtv.bundestag.de/player/macros/_v_f_514_de/od_player.html?singleton=true&content=5231275
Outside of the main hall, the Abgeordnete were waiting to meet the exchange students who had lived in their Wahlkreis (district). I unfortunately wasn't able to meet Frau Helga Kühn-Mengel, MdB, but a friend of mine and I met her two assistants.
I think it was a little unclear if we would be posing for a formal or a friendly picture.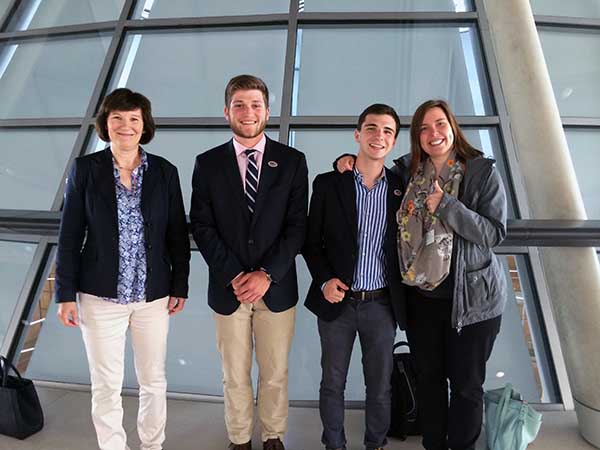 The day was only getting started. We were led into the CDU/CSU Union meeting room and greeted with drinks and copious amounts of chocolate. After we had taken our seats at the tables running across the room, several Bundestag members sat down and opened a panel to which we were allowed to pose questions.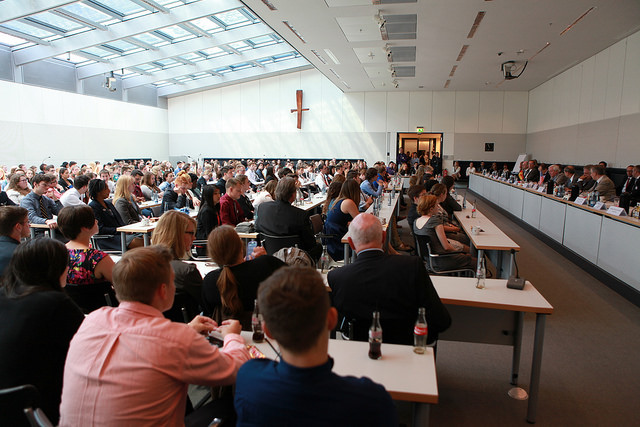 Seeing how we had just heard the Bundestag discuss IT security, I decided to run with the topic, and asked what the mood in the Bundestag was after the NSA and BND scandals broke.
My question was in German. I'm pretty sure it was understood. But it really wasn't answered.
I'm sure they're keen to avoid these sensitive topics, and I must give credit to the panel for answer the other interesting questions about US Military Installations in Germany, refugees, and the environment.
The United States Ambassador spoke once again…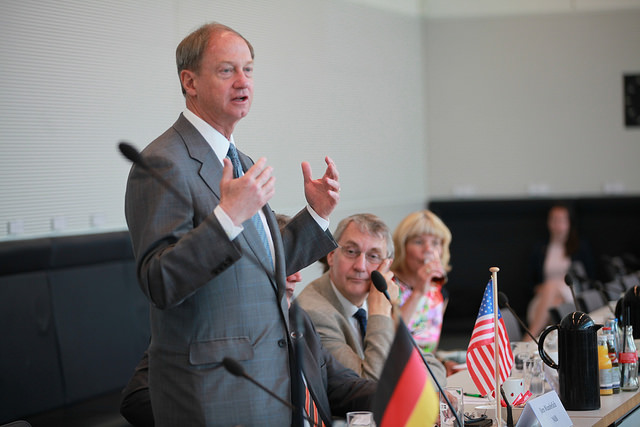 …and answered questions from the exchange students.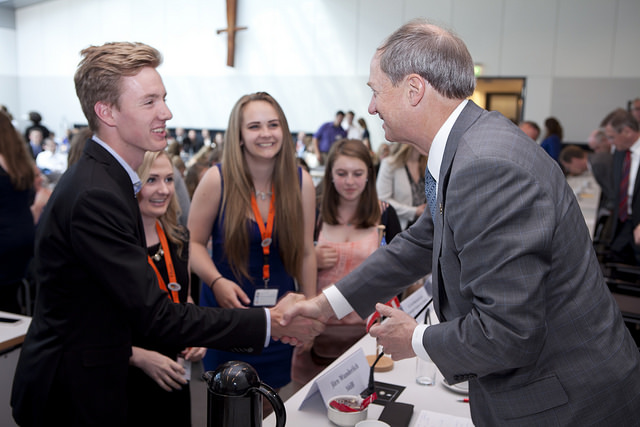 The President of the Bundestag also addressed us with a very warm and welcoming speech (pictured here siting). I'm also pictured here, but even the most challenging "Where's Waldo" puzzle is easier to solve than finding me.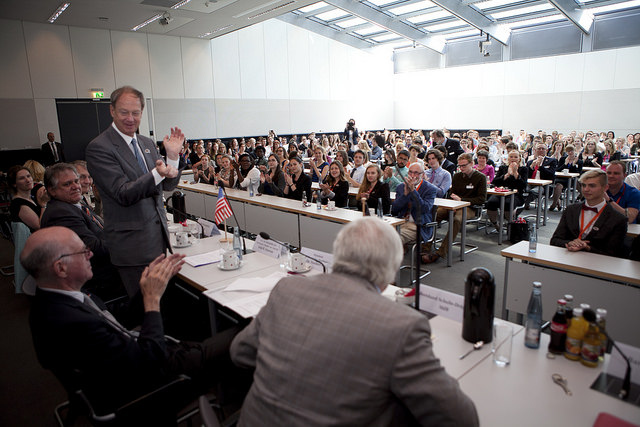 I was very impressed with the Bundestag for taking the time to build this bridge between US-American youth and the German Government. This was a great experience… Vielen Dank.
We meet Mutti
We had woken up at just after four in the morning, and therefore it was only the early afternoon when we walked over to the Bundeskanzleramt. After clearing security, we were once again served drinks, and we waited in the main hallway/lobby while Bundeskanzlerin Merkel practiced her hand clasp. In the meantime we posed with a familiar looking press podium.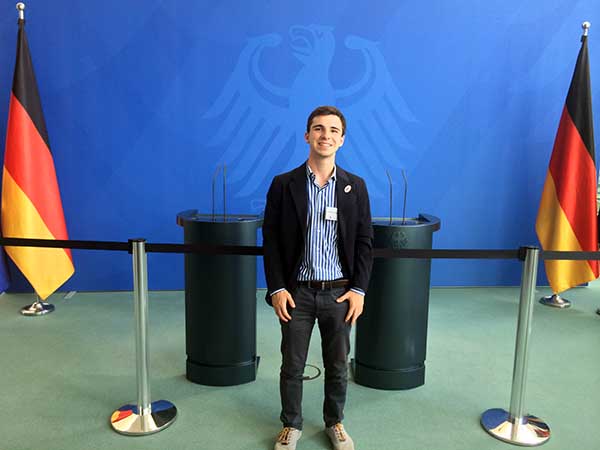 Slowly we lined up behind dividers, similar to the ones pictured above. I overheard some Bundeskanzleramt staffers explaining that we would be going to the "große Treppe" (large stairs). After a little more waiting, we were unleashed in a hubbub of utmost excitement, and we converged upon said stairs. The chatter grew and was hushed, grew and was hushed. Many of us were shaking, myself included, in the anticipation.
Minutes later, Bundeskanzlerin Merkel walked out. A collective inhale lowered the air pressure in the room. And then we were ecstatic.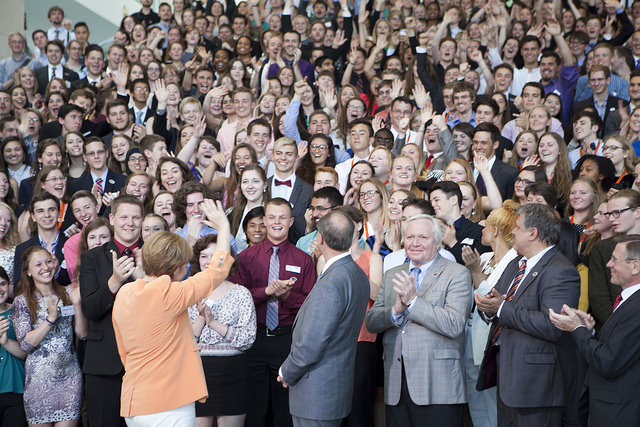 Just look at those faces. I'm in the second row, second from the left.
The Bundeskanzlerin then addressed us…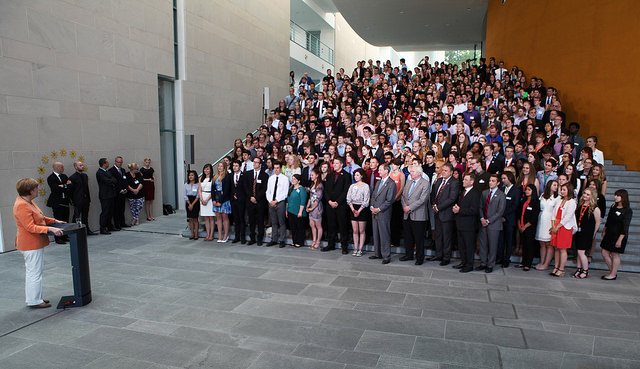 …and posed for an amazing photo.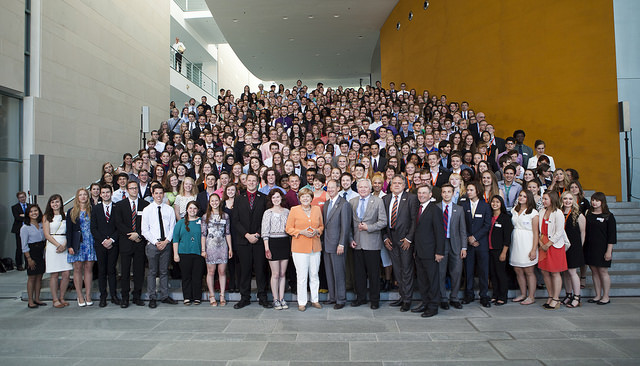 We were all exhausted and drained of adrenaline when the event wrapped up. Jaws still dropped, we pummeled Twitter, Facebook, Instagram, and Snapchat with our fresh new pictures.
A few of us used the remaining hour in the Bundeskanzleramt to take a tour.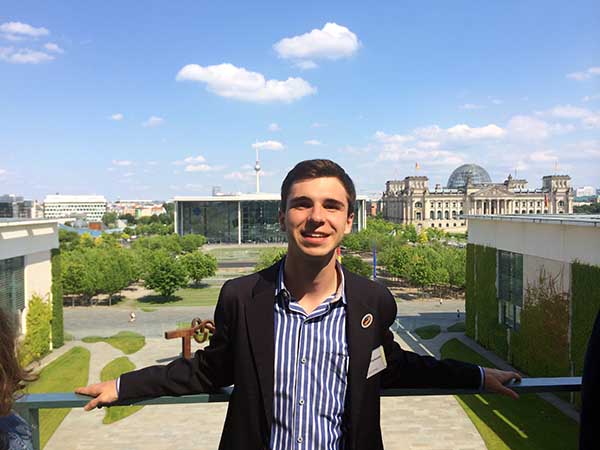 Pictured below is the Bundeskanzlerin's Wednesday briefing room, where she meets with all of the Bundesministers to discuss the status of the nation.
What left the largest impression on me wasn't the concentration of power which sat down here every Wednesday, but rather the Bundeskanzlerin's seat placement in relation to the corner window. The corner or the building is made of glass, allowing anyone to throw a glimpse directly onto the Bundestag from this room. But from the Bundeskanzlerin's seat, the words "Dem Deutschen Volke" stand boldly in sight, a reminder that while she is not directly elected by the people, she serves the German people.
This of course, will be discussed in greater detail when I cover the facility's architecture, but it's another reminder of how much modern day  Germany values their democratic system.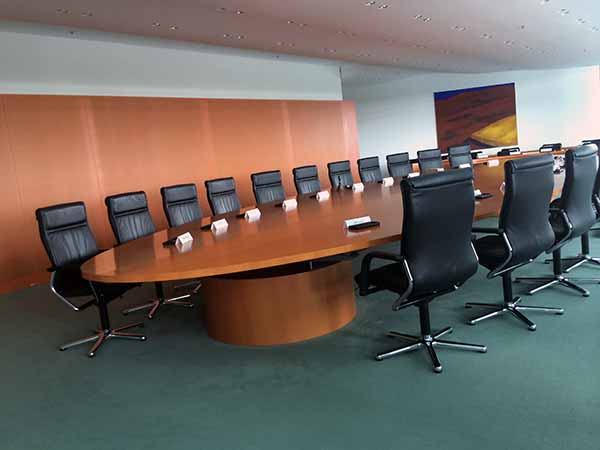 Soon it was time to leave. We exited the Bundeskanzleramt and made our way past the Bundestag. Set upon bright blue skies, the Bundestag's glass dome gleamed in the late afternoon sun.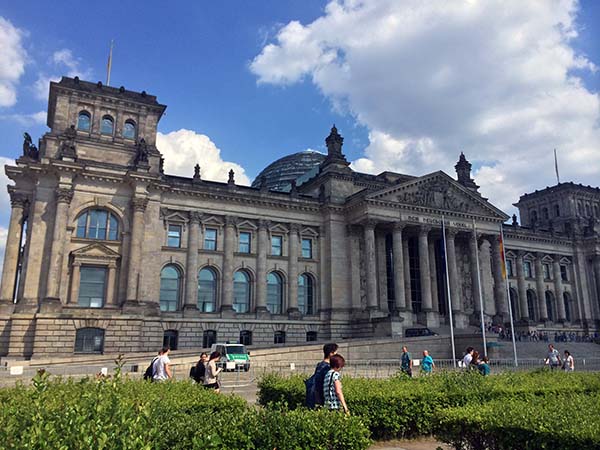 As we made our way home, we were greeted by protesters of the Russian/Ukrainian conflict – a subtle reminder that the issue is a lot closer to home here in Europe, and unfortunately ever ongoing.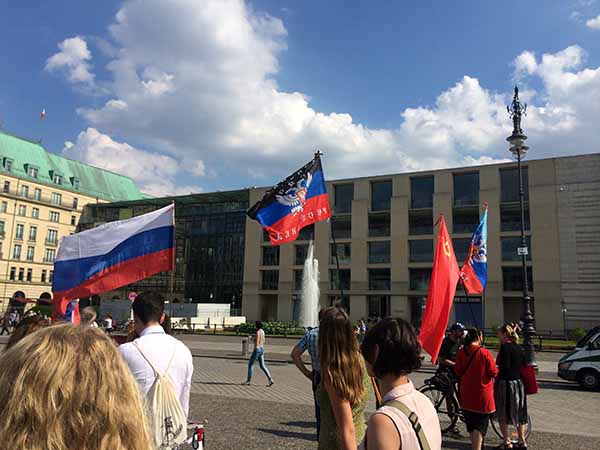 That evening we threw a party to conclude our week in Berlin. Martyn Novacek read Dr. Suess' Oh, The Places You'll Go! aloud to our group, resulting in a few tears shed.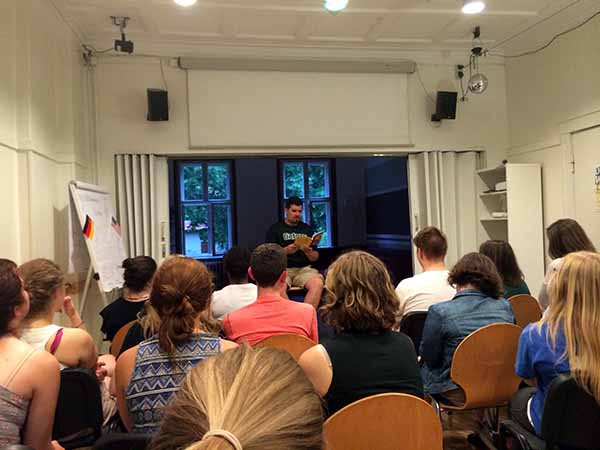 Auf Wiedersehen
I'll forever remember Bundeskanzlerin Merkel's last words to us. They weren't in German, actually, but rather in English.
Germany seems to [have been] an inspiration.
Das stimmt. Das stimmt wirklich. Auf Wiedersehen.