Last week I took a train to Köln (Cologne) with my host brother and a few friends to watch the Kölner Haie take on Alder-Mannheim at Lanxess Arena.
The whole experience was a lot like the NHL's Red Wings games that I had attended. Heck, the Haie's ("Sharks") colors are even the same, with a little extra black.
There were a few differences, though. First, the Haie lost (badly), 3-0, which is something I'm not used to seeing. Well, last time I checked the NHL standings, the Red Wings weren't doing so well. Maybe I shouldn't be talking.
Let's back up a little, though. Once again, I was reminded that Germany hasn't undergone the same security craze that the United States has undergone. I was absolutely blown away when I simply walked through the door after having my ticket checked. No metal detector, no having a black wand waved over my genitals.
The game opened with a pretty awesome introduction. This one from 2013 will give you a pretty good idea of what I'm writing about.
If you had the patience to watch the video to about the three minute mark, you'd notice that many of the fans light sparklers as they sing the Haie anthem.
Wait, whaaa-? SPARKLERS?!?! Yes, sparklers. Fans aren't even permitted bottle caps at sporting events in the United States, but a few hundred fans just lit fireworks in a stadium, technically speaking. I shouldn't make a big deal out of this, though. If handled responsibly, sparklers aren't capable of much danger, save for a few burns. And it made a pretty, albeit short, light show.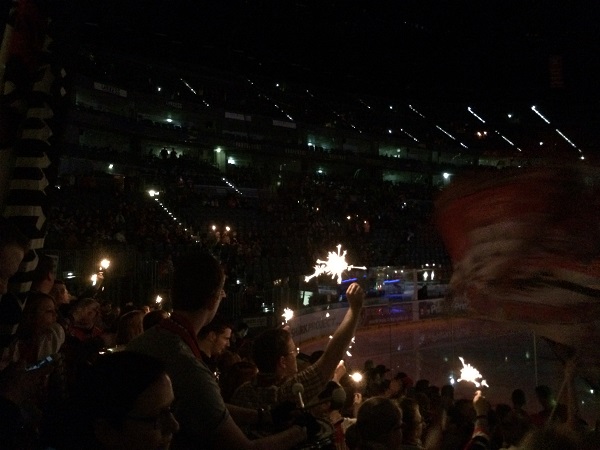 I had the great opportunity to sit amongst some diehard Haie fans in the fan section of the stadium. Along with those lovely sparklers, this section was accompanied by three drums (a snare and two base drums, I believe), a man with a megaphone, and more flags than are outside the United Nations headquarters in New York City. I shouldn't forget the scarves, either. Besides being a totally acceptable clothing item for men to wear here in Europe, they also serve as an expression of team spirit, be it for Fußball, Eishockey, Fußball, or Fußball.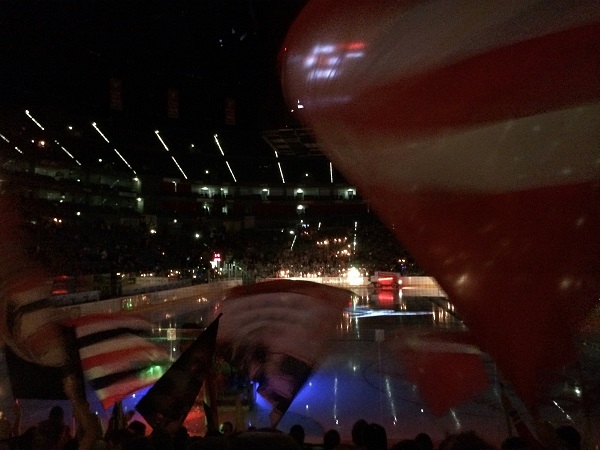 The fan section was similar to an American high school/college Student Section, but with more alcohol (well…maybe not). I was standing, surrounded by constant singing and chanting, and the constant beating of drums. My hands were probably bleeding afterwards from all of the clapping. All of this was in stark contrast to those near silent Red Wings games, where the stadium only became loud when the Red Wings scored, thanks in part to the fog horns.
Here's 3 minutes and 17 seconds of what the game was like.
Considering that the Haie lost, I probably didn't even experience a very celebratory fan section. I guess that's for next time.