I visited the opening of an art exhibition at the Rathaus this evening. Painter Steffen Blunk's work was on display. His paintings depicted war zones and the affected people within them. Two main time periods were illustrated; the Great War era, and the present day era.
During the opening ceremony, the Bürgermeister and several others (city council members? or political activists?) gave speeches and spoke out against the atrocities of war, the need to remember and reflect upon past conflicts, and our responsibility to aide in the cessation of violence.
….or at least that is what I thought they were talking about….
Artist Steffen Blunk has a unique style. Instead of canvas, Blunk uses wood as a base for his paintings, and many of his pieces are depictions of war photos found in newspapers. However, he repainted these photos with a twist: the scenery was left intact, albeit washed out and losing any chance of becoming a focal point. The people, often in the foreground, were painted and then chipped away with some sort of tool, presumably a chisel, until the second layer of the pressed wood board (similar to a layered particle board?) was revealed. The resulting effect was very powerful; these victims of war were faceless, anonymous, mere silhouettes. Most notably, they were utterly destroyed.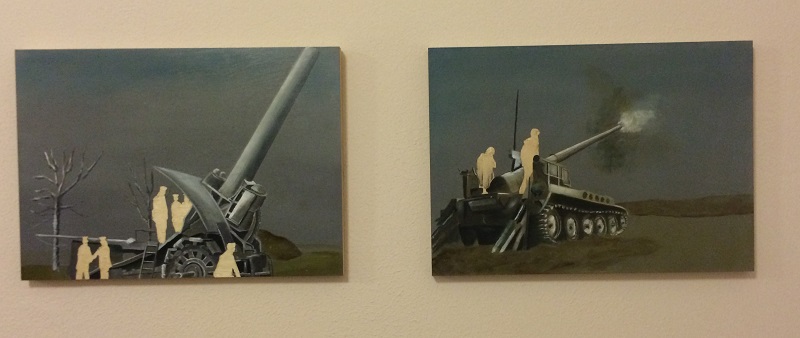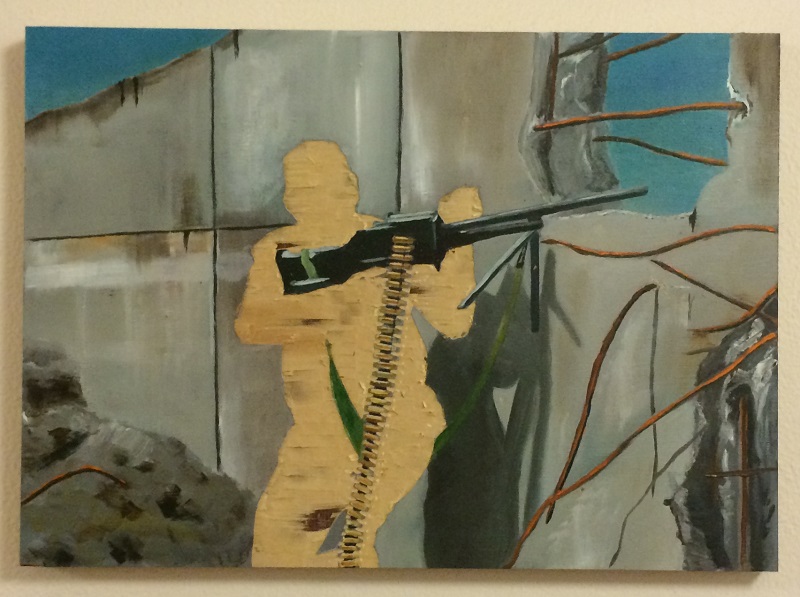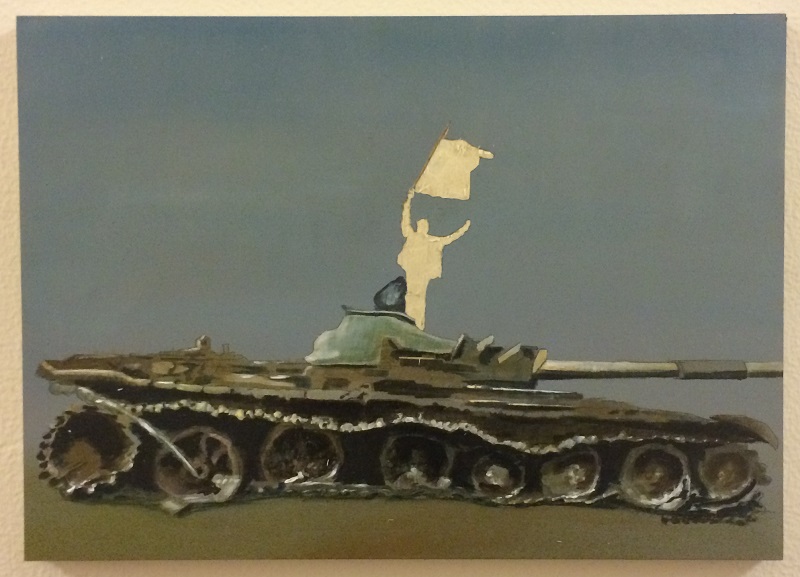 Many of the paintings seem familiar, most likely because we have seen the images in the media. Take the following: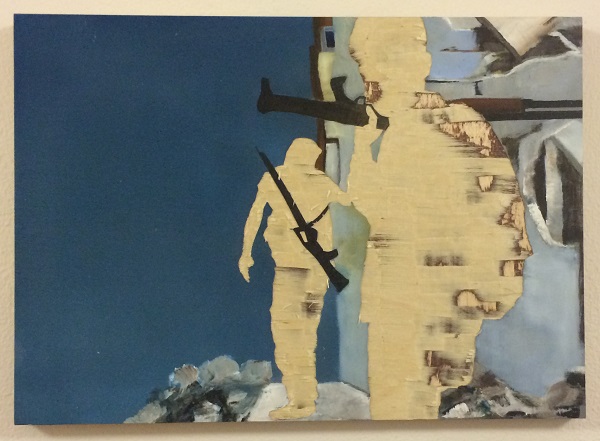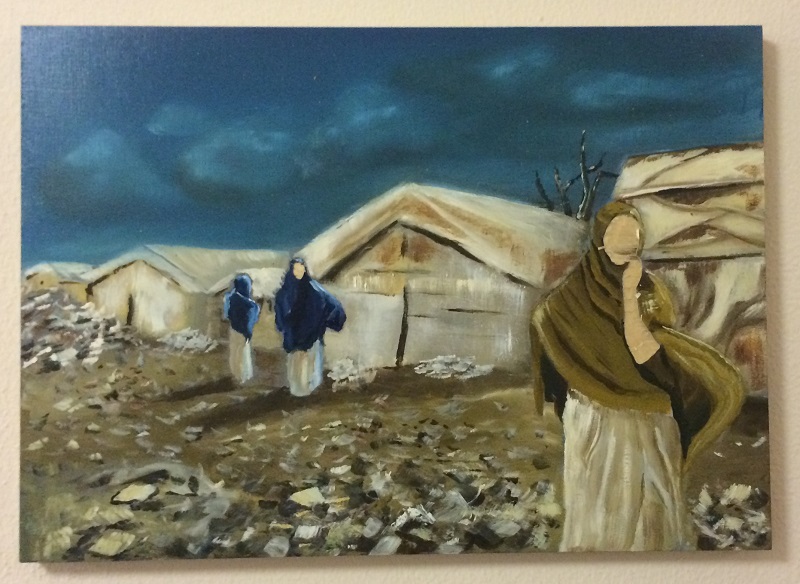 The scenes feel so familiar, and yet they are unfathomable for most who read this blog. The saddest paintings are those of children, innocently playing in the rubble.
As much as my parents hate to admit it, I'm now exiting my childhood. And as I reflect on my last 12 years of conscious existence, I realize that it has been so easy to take peace for granted. These faceless silhouettes are affected by violence in ways I can hardly imagine.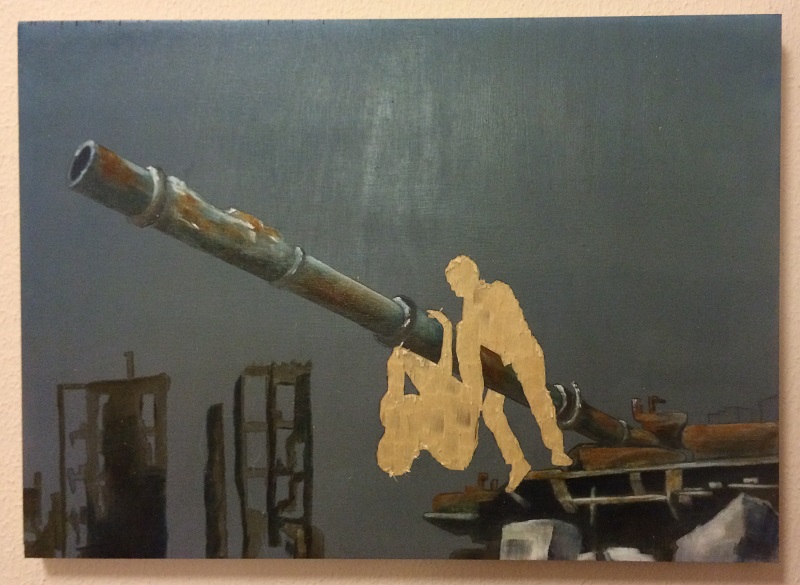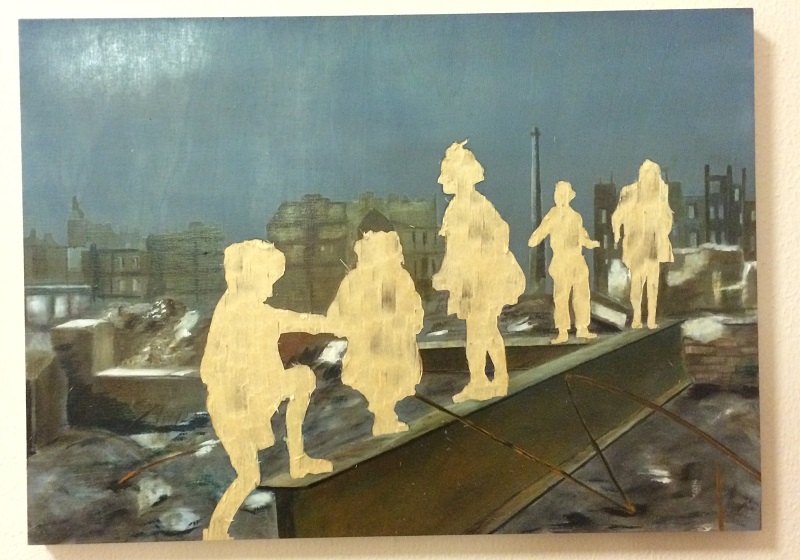 If there is a positive message conveyed by the paintings of the children playing, it is that the human spirit endures even during the darkest times, and that children, regardless of what happens in the world around them, remain innocent (usually) and have an immense and unwavering ability to adapt to and tolerate the harshest lives.
This is yet another example of present day German consciousness (and really, the greater human consciousness) against war and violence. I've encountered similar instances during my brief stay here, and I plan to post more about my findings as I uncover them.
At just past midnight, from Schleiden with love,
Andrew
---
If you would like to view these paintings at a higher resolution, see more of Steffen Blunk's work, or learn about the artist himself, then please visit his website at http://www.steffen-blunk.de/